Fourth of July – time for family, fireworks…and, of course, food! We know many of you will be going to or hosting a barbecue this 4th, so why not switch up some of that standard, fat-laden fare, for something FITapproved?
For the grill:
Serves 4 to 6
2 large heads cauliflower
1/4 cup olive oil
2 limes, zested and juice
2 cloves garlic, finely grated
1 teaspoon honey or agave syrup
2 tablespoons paprika
1 tablespoon chipotle powder
1 teaspoon salt
1/4 cup finely chopped cilantro leaves
Lime wedges, to serve
Remove the leaves on each cauliflower head and trim the stem end until you can set the cauliflower flat on the cutting board. Use a large, sharp knife to trim off the sides, then cut the cauliflower into 3 to 4 thick "steaks." Reserve the florets that fall away for another recipe.
Whisk the olive oil with the lime juice in a small bowl. Whisk in the grated garlic and honey or agave syrup. In a separate bowl, mix the lime zest, paprika, chipotle, and salt.
Heat a gas or charcoal grill to high. Brush one side of each cauliflower steak with the olive oil mixture and sprinkle generously with the chipotle powder mixture. Place the seasoned side down on the hot grill. Brush the tops with the olive oil mixture and season with the chipotle mix.
Cover the grill and cook for 5 to 6 minutes. Remove the lid and carefully flip the cauliflower. Cook covered for an additional 5 minutes or until done to your desired texture.
Sprinkle with chopped cilantro and serve immediately with lime wedges on the side.
* Please note: Final cooking time will depend on how thick you cut the steaks, and on your particular grill. I cooked mine at high heat until well grilled on the outside, but still a little snappy inside.
Sriracha Glazed Chicken Skewers
Ingredients:
8-16 bamboo skewers (You may want to use 2 per skewer for extra stability.)
1½ tablespoons low-sodium soy sauce
1 lime, juiced and zested
1 tablespoon plus 2 teaspoons honey
1 tablespoon Sriracha (plus more for serving)
4 boneless skinless chicken breasts (about 1½ pounds total)
2 peaches, cut into 16ths
24 fresh basil leaves
-Start by soaking the bamboo skewers in a shallow dish filled with water for 30 minutes. (Do not skip this step people, or your skewers will catch fire on the grill.)
-In a small bowl, whisk together the soy sauce, lime juice and zest, honey and Sriracha. Briefly set aside.
-Slice your chicken breasts into approximately 1-inch chunks.
-Place them in a large Ziploc bag and pour the marinade over them. Seal the bag, removing as much air as possible, and refrigerate for at least 30 minutes. (The longer you let the chicken marinate the more it will soak up the glorious flavors, but 30 minutes will do in a pinch.)
-Slice your peaches into 16th's. Just to break it down: Cut each peach in half. Then slice each half into four segments. Slice each of those four segments in half.
-Once the chicken is marinated, it's time to assemble the skewers. Thread a piece of chicken, followed by a basil leaf, and a peach segment onto a soaked bamboo skewer. (Fold large basil leaves in half before threading them onto the skewers.)
-Repeat this pattern about 3 times per skewer. (You should be able to get 4 pieces of chicken, 3 peaches, and 3 leaves of basil on each skewer)
-Heat a clean, oiled grill or grill pan over medium heat. When hot add the skewers and cook, rotating occasionally until the chicken is cooked through, about 12-15 minutes.
*KEEP AN EYE ON YOUR SKEWERS, PLEASE! The honey in the marinade burns easily, so you need to watch them carefully. If they start to brown too quickly, turn the heat down a little bit.
Patriotic Salads:
Red, White, and Blue Watermelon Salad
2 lbs. fresh watermelon, cut into cubes (1/2 – 1 inch)
1 cup jicama, cut into cubes (1/4 – 1/2 inch)
1 large cucumber, optionally peeled, cut into cubes (1/4 – 1/2 inch)
1 pint blueberries
1 handful fresh basil, chopped (maybe 1/4 cup)
1 small handful fresh mint, chopped (maybe 1/8th cup)
1/2 lime, juiced
Combine all ingredients in a bowl. Cover, and refrigerate for 1-2 hours or until well chilled.
Dressing
4 

tablespoons blueberry vinegar (good balsamic will work too)

1 

tablespoon walnut oil

dashes salt and pepper
Salad
2/3 

cups uncooked red quinoa

2 

cups fresh blueberries

5 

ounces blue cheese

3 

tablespoons fresh mint, chopped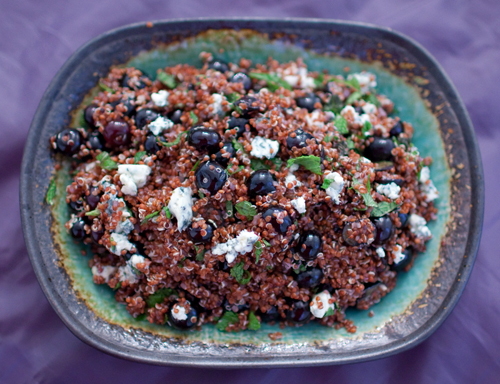 Before cooking the quinoa, soak it in some cold water to rinse off some of its natural bitterness.
Mix the dressing together and set aside. Cut the blue cheese, mint and place this in with all the blueberries into a large bowl.
Once you drain the quinoa, cool it off till it is slightly warm and pour the blueberry vinaigrette and mix that through.
Let the quinoa cool down some more before mixing in the cheese, blueberries and mint (otherwise your blue cheese will melt.)
Perfect Host Gift: 
What you'll need to make the American Flag Vegetable Tray…
Large Cookie Sheet
Square Container for Dip
3 Cucumbers
10-15 Radishes
Cauliflower
Grape Tomatoes
2 Red Peppers
For the Dip:
18 ounce container 2% greek yogurt
1 teaspoon garlic powder
1 large shallot (about 2 tablespoons chopped)
1 teaspoon dried parsley
1 teaspoon dried dill
½ teaspoon kosher salt
Pepper
What To Do
Finely mince a shallot.
Measure out 2 tablespoons of minced shallot, and mix together with all remaining ingredients.
What are your favorite barbecue treats?
Enjoy your holiday and we will be in touch next week!
xoxo
The FITgals